Belize is a Curious Place
Belize is a nation on the eastern coast of Central America, with Caribbean Sea shorelines to the east and dense jungle to the west. Offshore, the massive Belize Barrier Reef, dotted with hundreds of low-lying islands called cayes, hosts rich marine life. Belize's jungle areas are home to Mayan ruins like Caracol, renowned for its towering pyramid; lagoon-side Lamanai; and Altun Ha, just outside Belize City.
Thinking of hiking the famous Victoria Peak?
Despite being the second highest elevation (approx. 3,670 ft/ 1,120 m)in Belize whose summit is many mountain climbers' holy grail, the rumor goes less than 200 people have actually reached the top of this herculean mountain. That doesn't stop adventurous travelers and intrepid Belizean hikers from trying, though, and many do in fact get to witness the vast rainforest canopy from atop the jutting rock. Every year, (pandemic notwithstanding) adrenaline-chasing hikers await impatiently for the dry season to open so they can finally take on the arduous journey they have spent months – if not more – preparing for.
A much-needed reprieve from a year cooped up indoors, spending three to five days in the Belizean jungle with only the broad-leafed trees and curious fur-covered fauna as sleeping companions is definitely welcomed. The journey begins at the world's only jaguar preserve, Cockscomb Basin Wildlife Sanctuary in the Stann Creek District. This protected area on its own is one travelers must explore, if not for the sole reason of the impressive double waterfalls after the hike (but that's for another time.) This time, you begin the journey here so that 27km later, the sight of undulating green-carpeted hills below you is seared into your memory forever.
Most complete the first leg of the journey in 12 –19 km, stopping at a camp to rest for the night. After settling into your comfy hammock and falling asleep to nearby gurgling streams (no white noise machine needed here), you awake and set off on to summit the daunting Victoria Peak. It usually takes three to six hours of steep inclines, using roots to pull yourself up, and thigh-burning grapples. But by the time you arrive, the reward has never felt so refreshing. We recommend taking a moment to center yourself, and snap photos of the well-earned view splayed out at your feet. It is now time to return back to the 19km camp (and you just might spot one a shy jaguar or two on your way down!)
A Glimpse into the Garifuna Culture
There's something minuscule that loosens inside you when you hear them for the first time: the vibrations of the segunda humming in your veins as you watch the dancer — a swatch of color — bask in the cacophony that are the Garifuna drums.
Nothing prepares you for the lightness that suddenly enters your body, pooling at your feet, until you can't help but join in the swaying of the hips, the tapping of the soles and the smile on your lips.
This is the joy of the Garifuna.
The Garifuna Drumming Tour is one that many underestimate, but quickly becomes the highlight of many travelers' Belize vacation. The culturally saturated village of Hopkins in the southeast coast is the perfect hub to experience it. You'll find yourself on a sandy beach with about 4 or 5 Garifuna drummers banging away rhythms that threaten to reveal your (poor) dance skills. In no time, your body will beg to join the dancer and the orbit of her flapping skirts. And more often than not, you'll eventually be invited to show off your own drumming skills alongside the maestros. Their melodic voices will carry you through song after Garinagu song, until you're famished for the next part of the tour: a Hudut cooking class.
The traditional Garifuna dish will destroy your palate when it comes to other seafood dishes, because after that, nothing will ever be as good. You'll learn how to make this coconut-based fish soup entirely from scratch, down to the mashing of green plantain in an old-school giant wooden mortar + pestle. Don't worry, that arm workout will be rewarded with a hot, spice-ridden soup that will have you learning the phrase "straight from the fiyaa haat! (Fire hearth)"
At the end of this roughly two-hour tour, your feet will be happy, your belly full and your appreciation for the Garifuna culture multiplied by tenfold.
And that's just scratching the surface of what a cultural tour is like in Belize.
5 things only those who have been to Belize will understand
Everyone's Belize vacation experience is unique, whether they decided to have a solo trip, a romantic getaway or a group trip with the squad. However, there are certain requirements that absolutely cement your experience as the basis for any Belize vacation. Here are some of the most popular tropes that every Belize traveler shares with the locals living them out every single day.
1) There is such a thing as "Belizean timing." If the motto for Caye Caulker (Go Slow) is any indication to this established notion, Belizeans really do abide by a "Belizean timing." Here's a tip for your first trip to Belize: nothing will ever start on time. There's a good chance any event or friend meet-up will start around a half hour later, the earliest. We like to take our time, so you should, too. There's no need to stress over here, leave that for when you return home! Here, the Belizean timing is a blessing, reminding you to not take life too seriously and that everything happens in due time.
2) No such thing as too much pepper. If you listen closely, you can hear Marie Sharp evangelists touting support for the famous pepper sauce that has become the mascot for pepper in Belize. Local pepper sauces grace almost every single table across restaurants and homes in Belize. And for those that don't, it's not an unusual sight to see a local pull out a mini-sized pepper bottle from the depths of their pocket (it's true, I've seen it happen,) and drizzle a bit onto their rice and beans. If you don't leave Belize with a bunch of these little bottles as souvenirs, you did your vacation wrong.
3) The Blue Hole is absolutely worth all the hype. No matter how many times you fly over the Great Blue Hole, it'll leave you in awe every single time. True, it is our most famous selling point, but for good reason. This natural phenomenon is listed as a UNESCO World Heritage Site, deservedly so. The experience of flying across the barrier reef, spotting the gaping, dark blue cavern from above, is arguably close to enlightenment. Every person who has been lucky enough to experience this tour has never regretted it. In fact, many do repeat trips! Definitely keep it on your bucket list when traveling to Belize.
4) A Maya site is like pizza. There is no bad pizza. We've all heard the original rendition of this saying, but it also applies to our many Maya temples scattered across Belize. Sure, Mr. Popular Xunantunich is a gargantuan marvel that everyone should visit when in San Ignacio, but don't overlook the many others that might be more accessible to your location, with the same amount of grandeur. Caracol is massively underrated, despite housing the tallest temple in the entire region. Lamanai in the north has a unique means to access the site, earning the experience extra adventure points. And let's not forget about Altun Ha, the closest one to the international airport, yet devoid of crowds. In Belize, no Maya site will leave you wanting for more, we promise.
5) The never-ending debate about ketchup on garnaches. This debate plagues Belizeans every day, the social media spheres battling as to whether ketchup belongs on the fried-tortilla treats that are piled high with refried beans, cheese and other toppings. (Serious stuff, I know). If you have experienced this traditional dish in Belize, you have probably been subjected to a bystander's aggressive suggestion (or their mortification, depending on the region) to add ketchup to garnaches. However, there is no wrong way to eat this Belizean dish (though about 50% of Belize disagrees.) ­
Belize City Swing Bridge: A relic standing today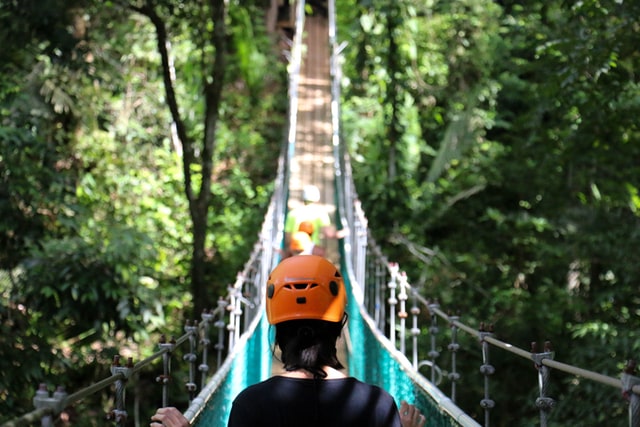 Downtown Belize City is riddled with historical ­remnants of a different time when Belize was only known as British Honduras. One of these time capsules is the well-known Swing Bridge which connects the north and south side of the city and is known to be the only bridge in the world still operated by hand. With the Haulover Creek tributary passing underneath to branch into the Caribbean Sea, the bridge was first erected in 1818 when it was only a wooden bridge. Later, it was replaced in 1859 until eventually being replaced by a metal bridge in 1923.
Initially known as "The Grand Belize Bridge," the swing bridge is a popular tourist attraction with a great view of all the sailboats and pelicans surrounding the site. While it has been through a few facelifts, the historic Hurricane Hattie and taken its toll through time, it is still operated today during very special ceremonies.